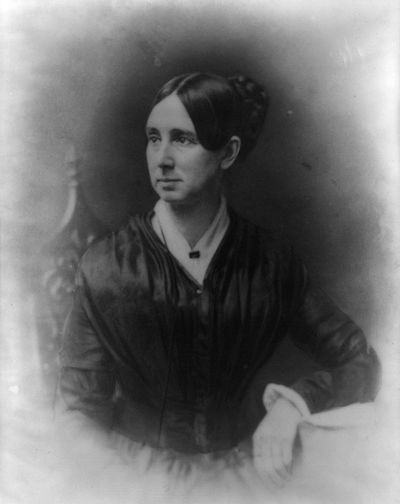 When you think of the 1800's, you likely don't think of compassionate mental health care. The treatment for mental illnesses in that time period...left a lot to be desired. Those suffering from mental illnesses were confined in pens or cages and denied basic necessities, like clothing. If they were not behaving "properly", they were tortured and beaten until their behavior changed.
But in 1841, a wealthy woman from the East Coast began a campaign to change all of this. Dorothea Dix had just returned from being treated for tuberculosis in England. While she was there, she met many social reformers and became interested in the "lunacy reform movement" which was raising awareness about the conditions of asylums. She returned to Massachusetts and began investigating the conditions of the local population with mental illnesses. What she found angered her greatly, so she wrote a scathing "Memorial" to the state legislature calling out the horrible conditions and mistreatment. She also called for the construction of a facility designed to care for those with mental illnesses. Her words worked. In 1845, a joint committee of the state houses convened to examine the issue and later passed a bill based on Dix's recommendations.
Dix did not stop there. She continued campaigning for the next 40 years for mental health reform in all of the Eastern states and internationally in Canada, Scotland, and Russia. She helped found mental hospitals, schools for those with disabilities, and training facilities for nurses. She even spoke with Pope Pius IX and convinced him to build a new hospital for the mentally ill.
While there is a lot of controversy over asylums and mental health care hospitals, there is no denying that Dorothea Dix's compassion for others drastically improved the living conditions of an incredible number of people. To learn more about Dorothea Dix and her work, visit A Mighty Girl's blog post Dorothea Dix: The Compassionate Crusader Who Revolutionized Care for the Mentally Ill.